Schools take part in the "Crunch Off" competition | People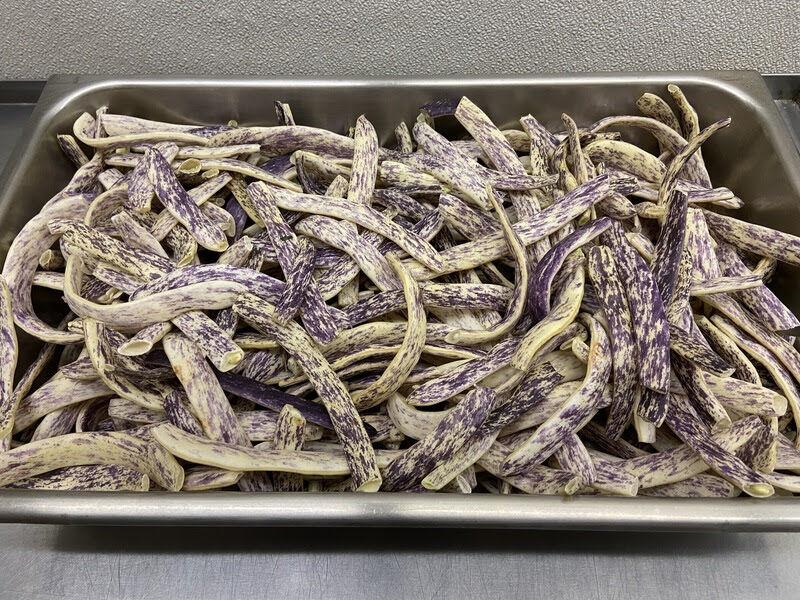 October was named National Farm to School Month, and this year Cody's schools participated in a friendly interstate competition called Crunch Off.
The competition pits states against each other to see who can get the most "crunch" in a local apple or other product, per capita.
"Crunch off events encourage healthy eating and support local agriculture while celebrating farm-to-school month and highlighting the strength a community derives from food service partnerships between farmers and schools," said Gen Sheets, Director of Nutrition for the Cody School District.
Each student who attended school meals on October 6 was offered a serving of locally grown Dragon Tongue beans.
Beans, a Dutch wax variety that are about 6 to 8 inches long, have cream-colored pods with bright purple markings and are exceptionally crisp and juicy.
"It was a way to celebrate the wonderful fruits and vegetables grown in the Highlands region," Sheets said.
So far this school year, the Cody School District has reinvested $ 7,500 in the community through the purchase of local produce.
"We processed 3,500 pounds of local fruits and vegetables per week for our meal and snack programs," Sheets said. "Hard-working school nutrition assistants deserve a shout out. It's a lot of washing, slicing and dicing.
All lettuce in the district meals comes from Greybull Valley Produce.
This lettuce is grown in Greybull using hydroponics, keeping the product 100% preservative-free and chemical-free.
Greybull Valley Produce harvests fresh heads of lettuce and brings them directly to the central district kitchen each week.
"We also take weekly deliveries, sometimes every two weeks, of fresh produce from Shoshone River Farms and Farm Table West, which is a local food hub, with orders often filled by Lloyd Craft Farms of Worland," she declared.
The products presented this year include:
• Orange, purple and yellow carrots
• Yellow, white and red onions
• American, Asian and English cucumbers
• iced radishes and English breakfast
• Crimson watermelon and sweet yellow Amarillo
• Orange, purple, yellow and red tomatoes
• Green, purple and orange peppers
• Athena and cantaloupe in sugar cubes
• Dragon's Tongue Wax Beans
"We have to thank very much everyone who donated to our farm-to-school offerings," Sheets said. "These are all the friends and family who have donated in memory of David Nelson, the families who have chosen to donate their remaining lunch balances and the citizens of the community who always silently help us weave strong ties. "